ASAE-ENDORSED Board Management Solution
OnBoard Board Intelligence Platform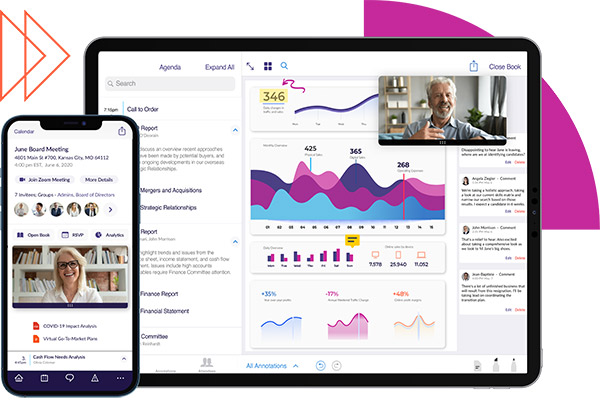 OnBoard's the first board intelligence platform, a deliberate evolution of what board management solutions can offer to help associations govern more effectively.
A powerful platform used by ASAE's own board of directors, OnBoard helps associations around the world have more strategic meetings and accomplish more outside the boardroom.
Exclusive pricing, negotiated for you!
With this solution, your organization can access a market-leading board management platform at a considerable discount we've specially negotiated for you. Watch first-hand how OnBoard helps associations in this webcast with Rebecca Hawk, Director, Executive & Board Operations for ASAE.
The OnBoard platform is designed to help you drive visionary leadership with elegant technology that frees boards and leadership teams to better engage, make better decisions, and provide value to their membership. A complete suite of powerful governance tools improves meeting preparation, communication, and collaboration — ensuring a seamless board and committee experience. 
Schedule a 1:1 customized demo or start a free 30-day trial with complete access to the full-featured platform – or give us a call anytime at 765.535.1882 to learn more.

Unquestionably Essential in Powering Extraordinary Boards
OnBoard is designed to work the way you do, addressing real-world needs and reducing complexity so boards and leadership teams can work smarter, move faster, and achieve more for the organizations they govern.
Work in Harmony - Unify fragmented communication, streamline time-consuming processes, and plan and execute next steps and actions. Give boards and leaders a single source of truth for everything from meeting management and operations to coordination with committees and leadership teams so they can collaborate seamlessly.
Simplify the Tough and Tedious - Cut down on complex, burdensome tasks and promote clarity and efficiency. OnBoard's intuitive, software is designed to empower everyone from administrators and leadership teams to board directors to accomplish more and get the most out of interaction.
Get Peace of Mind – Keep your information safe with the most secure board software ever created. Combining industry-leading security, compliance, privacy, and data protection that's certified and accredited by top global security standards bodies, OnBoard ensures you have full control over who can access and utilize board information.
OnBoard delivers simplicity, convenience, and security. This top-rated board and leadership meeting management platform empower your leaders to make agile, smart decisions. Learn how.
Recommended Resources
For a complimentary consultation, fill out the contact form below or contact OnBoard at 765-535-1882 or more@onboardmeetings.com.