ASAE Investment Management Solution - Raffa Investment Advisors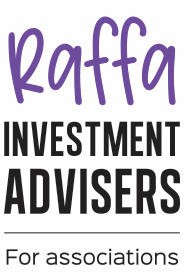 Raffa Investment Advisers (RIA) is a proud fiduciary, created specifically to manage Associations' investments. Our 80+ Association clients¹ rely on our partnership to meet their responsibility as investment stewards. Clients range from small organizations investing for the first time to large organizations with over $50 million invested.
We provide a modern, inexpensive² approach to investing. Through our many years of experience working with Associations we've learned what's important when it comes to investing, developing policies, and communicating with Boards.
 "When we started Raffa Investment Advisers, we knew there was a need for transparency, clarity, and accountability in association focused investment services.  We've worked hard to put together a team of knowledgeable advisers that have association expertise and a genuine desire to help our clients achieve their goals.  We know the association community inside and out – and I'm proud to recommend RIA's services to associations of all types." - Tom Raffa
We understand the challenges nonprofit and associations encounter…
 Aligning investment policies with organizational goals, values, and risk tolerance
 Making the best use of cash assets while balancing current, short, and longer-term objectives
 Navigating a lack of transparency in benchmarking, reporting and fees
 Orienting and educating volunteer Board members
… and we're committed to helping you thrive.
What we do:
 Comprehensive Portfolio Management
 Investment Policy Development & Refinement;
 Values-based Investment Solutions
 Customized Performance Reporting & Communications
 Finance Committee + Board Orientation & Training
 Full-service adviser to Qualified Retirement Plans (401k, 403b, 457)
 For more information, please see the resources below:
Disclosure 1: Data as of 12/31/2022 
Disclosure 2: The weighted average expense ratio across funds was 0.40% in 2021.  RIA's typical weighted average expense ratio is 0.14%.  Source: Morningstar, Inc.  https://www.morningstar.com/lp/annual-us-fund-fee-study.
Disclosure 3: Tom Raffa is an owner and client of Raffa Investment Advisers.