ASAE Investment Management Solution
The financial markets continue to get more complex, while professional investing becomes an increasingly important part of an association's overall fiscal strength.  As a result, an association's fiduciary responsibilities and the need to access institutional caliber investment advisory services has arguably never been greater.
Many associations simply do not have the investable assets to access the quality of investment advisory services they require.   And those that do are often faced with the challenge of navigating a myriad of potential advisory options—such as banks, broker/dealers, asset management firms, and registered investment advisers. 
To meet this challenge, we engaged a rigorous and comprehensive due diligence process resulting in the ASAE Investment Management Solution where DiMeo Schneider & Associates, LLC will serve clients with assets up to $5 million and Brown Advisory will serve clients with over $5 million.
To learn more, select the option below that represents your asset size.
Assets Up To $5 million
Provided by: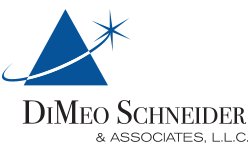 Assets Over $5 million
Provided by: